Article ID: KB0072
ISSUE
When getting the Next Fixed Asset ID, I get the error:
"Enter an Asset ID"
Open the Fixed Asset General window, put your cursor on the Asset Id field and then either select Additional > Next Number or use CTRL+N and the following error message appears.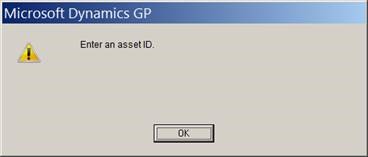 If any character is typed into the Asset Id field before selecting Additional > Next Number or hitting CTRL+N then it works and the next number is retrieved.
Microsoft changed the Asset General Information window in GP 2015. Now when you exit the Asset ID field when the field is blank, GP issues the "Enter an asset ID" warning and returns focus to the Asset ID field, preventing EthoTech's Additional > Next Number or CTRL+N functionality from running. The same behavior could be encountered by simply tabbing off the empty Asset ID field.
RESOLUTION
Resolved in EthoSeries Build 14.00.106 Release Date June 6, 2016
You can download this build or higher from the EthoTech Download Center.