Article ID: KB0075
ISSUE
Upon opening a Company database in Dynamics GP, I receive the following error:
"An unexpected error was encountered trying to register The EthoSeries trigger: 'Save' of form JC_Job_Maintenance. Error 2. This trigger will be disabled."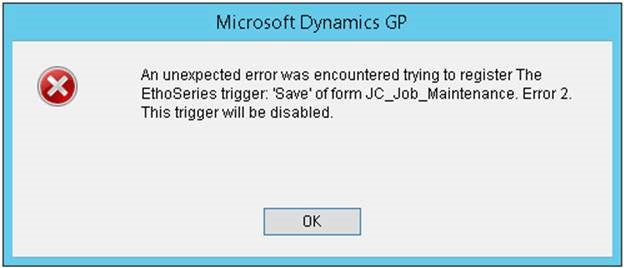 Key2Act made a change to their Job Cost functionality that caused EthoTech Next Numeric Collection to require a change in its functionality. Next Numeric Collection gets installed as part of The EthoSeries* and thus, this error will present itself even if you do not have registration keys to activate this product.
RESOLUTION
Resolved in EthoSeries Build 16.00.103 Release Date April 7, 2017
You can download this build or higher from the EthoTech Download Center.
* The EthoSeries includes Commission Plan, Customer Service Collection, Historical Serial & Lot Number Tracking, Next Numeric Collection, Quick Track and Salesperson Enhancements.