Article ID: KB0086
Error Message: "An error 30 was encountered while trying to save table ASI Commission Work. The Commission Plan tables <invoice number> should be reviewed manually."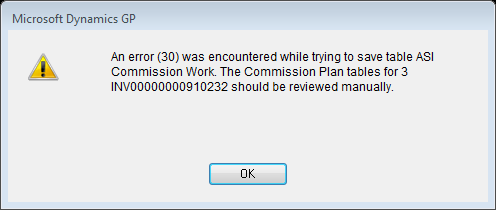 This error message is a generic catch-all error in the EthoTech create/update commission routine. It is displayed when EthoTech attempts to save the commission header record and the error code returned from Dexterity is something that is not identified (0 = okay, 17 = duplicate, 18 = missing, etc).
This error is not reported very often, and no one (so far) has been able to replicate it at will. With this being the case, if your company gets this error again, please Contact Us.