Article ID: KB0013
ISSUE
While trying to install / upgrade an EthoTech product on a workstation with a Microsoft Dynamics GP client, the following error message occurs after copying the EthoTech CNK file into the Microsoft Dynamics GP folder and selecting "YES" to add new code.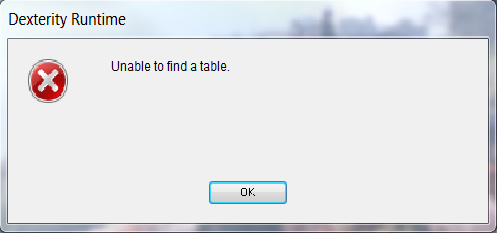 RESOLUTION
The "Unable to find a table" error typically occurs because Dynamics GP must be started with elevated privileges to affect files within the Dynamics GP install directory.
Use the following steps to avoid this error message.
Place the EthoTech CNK file into the Dynamics GP folder.
(Typical Location: C:\Program Files (x86)\Microsoft Dynamics\GP)

Right click on the Dynamics GP icon.

Choose 'Run as administrator'.

When prompted with the message: 'Do you want to allow the following program to make changes to this computer?' Choose YES.

Then, choose YES when prompted to include new code.
Please refer to the EthoTech Installation Guide for an important Installation Checklist as well as step-by-step instructions for installing EthoTech products.