Article ID: KB0088
ISSUE
I received the following error message:
"The Next Master Number could not be determined, please notify the system administrator immediately."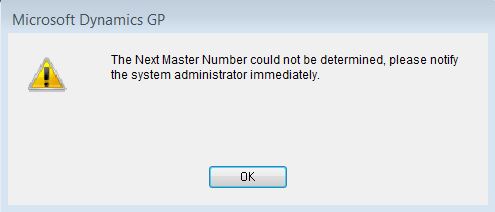 This error can present itself when attempting to get the Next Master Number from the Additional Menu or using CTRL+N on any of the following Dynamics GP windows:
Asset General Information
Contract Maintenance (Project Accounting)
Customer Maintenance
Employee Maintenance
Item Maintenance
Job Maintenance (WennSoft)
Payables Batch Entry
Project Maintenance (Project Accounting)
Receivables Batch Entry
Sales Batch Entry
Salesperson Maintenance
Sales Prospect Maintenance
Vendor Maintenance
RESOLUTION
Open the Next Numeric Setup window
[Administration Area Page >> Setup >> Company >> Next Numeric >> Next Numeric Setup]
Select the Master Record Type
Enter the Next Master Number. The Master Record Type determines the size of the field. You may enter any alphanumeric sequence that ends with a numeric value.
Example: Customer Maintenance